"Can we bring you dinner tonight?" my dear friend's message read. After a busy few weeks and a weekend of stomach bugs and the common cold, her gift of love was absolutely welcomed. This is community. For when one feels weak, a friend can be there to help bear one's burden. Truthfully though, being in a place where one is vulnerable can be quite challenging and almost counter cultural. You see, we live in a culture where everyone does things for themselves and are motivated by their own ego. I believe that previous generations and even cultures that live more tribal, truly understood the concept of community (of being in co-unity.) Oh, how good and how pleasant it is!
Bear one another's burdens, and in this way you fulfil the Torah of Messiah.
Galatians 6:2
This is the true notion of our Friend and Messiah. The One who calls us His brothers and sisters.
"Who are my mother and my brothers?" He asked. Then He looked at those seated in a circle around Him and said, "Here are My mother and My brothers! Whoever does God's will is My brother and sister and mother."
Mark 3:33‭-‬35 NIV
He has shown us, dear friends, what is good by loving well, loving at all times and being present when adversity does come. We are called to love each other, for in doing so, we shine light on our true character as followers of the Way, the Truth and the Life – as disciples of the Prince of Peace.
He has shown you, O mortal, what is good. And what does the Lord require of you? To act justly and to love mercy and to walk humbly with your God.
Micah 6:8 NIV
A friend loves at all times, and a brother is born for a time of adversity.
Proverbs 17:17
Never to neglect
Ever to reflect,
Within the fellowship of His saints
Without constant complaints,
Reflecting on His Words
that brings Life
Without bickering
Without strife
In unity to stand
Together with Yah
holding our hands
Like oil pouring down
on the Lightbearer's crown
Like the dew on the mount
where Yah's blessings can be found
Together to dwell
It is good
It is well
Unity where life is given
bearing with another in e'ry season
Known by the manner in which we love
As we crossover the river
He is the One Who delivers
As one we firmly walk around the city walls
Until we hear the shofar calls
As one we will shout with jubilee
And He will set all captives free
Our inheritance to come with our Beloved King
Triumphant and Victorious
we will valiantly sing
The song of the Lamb
With blazing oil in our lamps
"The King is here!
No more tears!
He is making all things new!
He is the One,
Who is faithful and true!"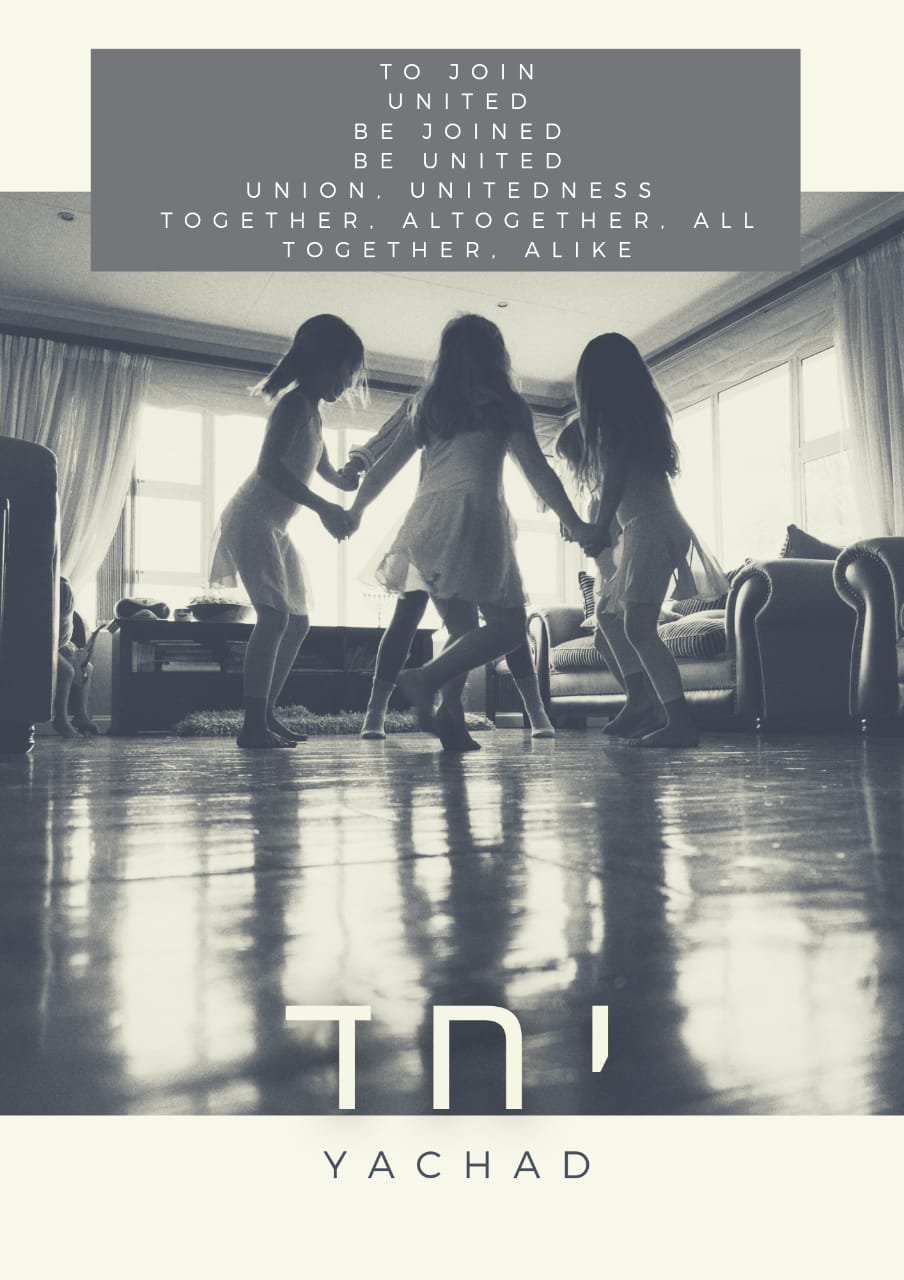 In closing, it is of utmost importance to bear in mind, that Yeshua said:
.. I and the Father are One."
John 10:30 WEBBE
And in the beloved shema in Deuteronomy it also states:
" Sh'ma, Yisra'el! Adonai Eloheinu, Adonai echad [Hear, Isra'el! Adonai our God, Adonai is One]"
D'varim (Deu) 6:4 CJB
Our Messiah Yeshua and Our Father is united, joined together, in unity. They are echad! And their Spirit dwells within us, equipping us to also be unity with our Father and our Bridegroom, but also enabling us to be in unity as brothers and sisters in Messiah. It might look different in this particular season, but let us be One just as Abba Father and Yeshua is One.
Beloved body of Messiah, may He…
…equip His people for works of service, so that the body of Christ may be built up until we all reach unity in the faith and in the knowledge of the Son of God and become mature, attaining to the whole measure of the fullness of Christ.
Ephesians 4:12‭-‬13
In Him we live
And move
And have our being
Shalom
Carmen Tehillah