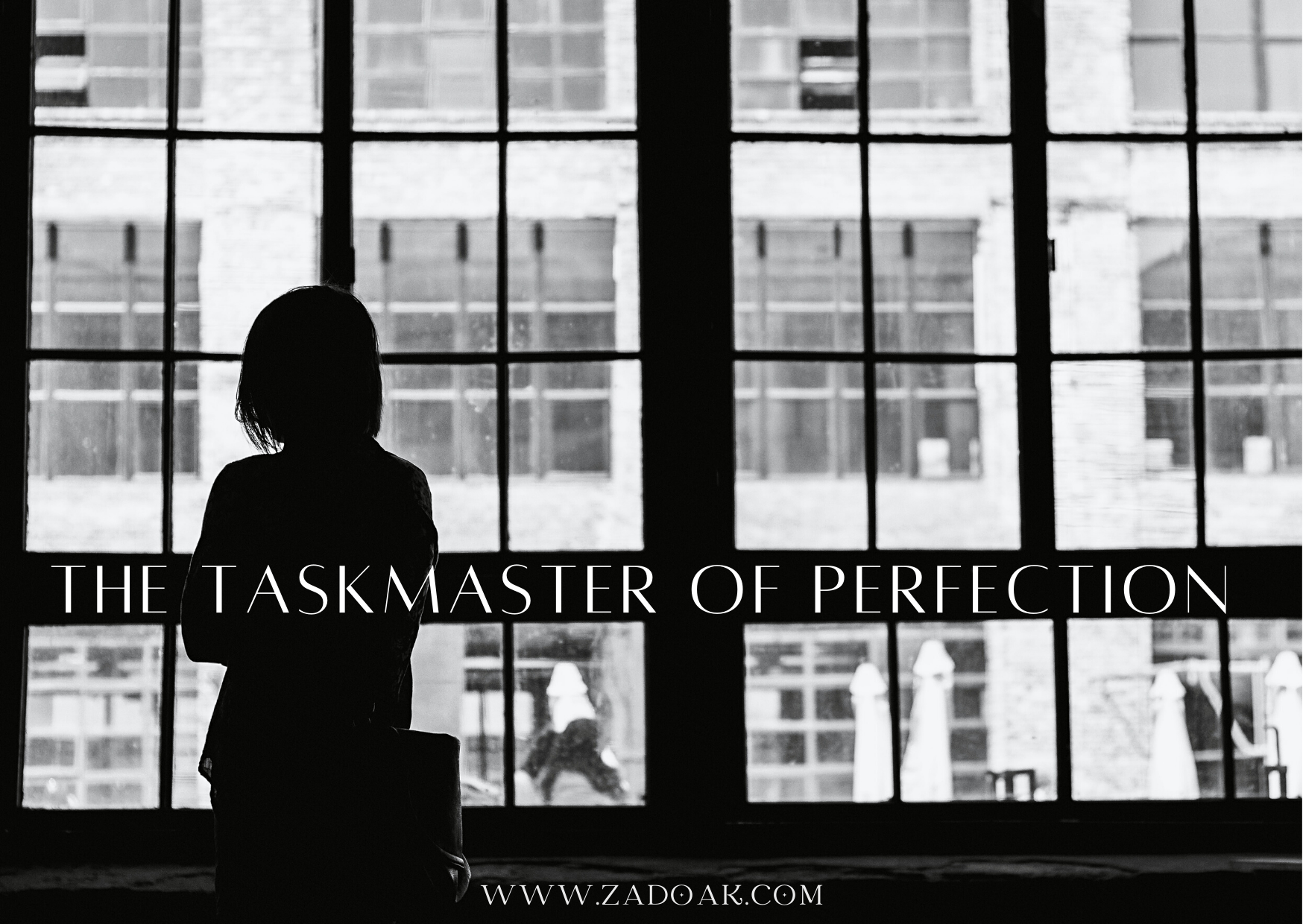 For many years the taskmasters in Egypt drove the children of Yah to perform beyond their capacity. Many died under the strict rod of Pharaoh. The Egyptians had no mercy towards the children of Abba, and their expectations towards them were absolute excellence. They were slaves to the system of perfection. In their affliction and oppression, they cried out to the Most High to deliver them from this bondage. He heard their cry for help, and delivered them.
Perfection.
It's an ancient old burden created and carried by man, in order for us to be superior and above the so-called average. We have created a false image of perfection and humanity has made it a god- an idol. We bow before it, longing for approval and excellence. Soon we are created in the image of this god that we have culturally made for ourselves. It's almost like a form of Greek mythology, in some way. The standards start to define us. "It must be perfect", we lie to ourselves. "It must be excellent and flawless." We succumb to standards of the Greek way of thinking, following the rabbit trails of philosophers like Aristotle. The voice of the taskmaster, driving us into performing and being enslaved to standards and expectations, that not even our Father in Heaven requires of us.
Even among fellow believers this idea of perfection parades around like a wolf in sheep's clothing, in the form of being a good steward or being set apart. Perfection is like staring this ravenous wolf straight into the eye. It locks eyes with you and threatens to devour you. The authority in its countenance causes one to easily bend the knee, until weariness takes over. For one can only fake the illusion of being perfect for so long, until the illusion caves in. We yearn for perfection and so we repent out of the flesh until we are red in the face. We confuse the idea of being set-apart and different, a holy and treasured people, with being perfect. Within being set apart we see that Abba treasures us and delights within us. In this journey of maturing we must never forget the love that He has for us. The Word makes it plain to us, that it is not fear but His loving kindness that draws us to repentance.
Just to be clear, repentance is powerful and precious, but it must come out of a sincere place within our hearts and not out of a place of being performance driven. It must be out of a place of knowing the love that He has for us. Yah knows the depth of our hearts. You cannot hide behind the neat drapery of perfection. He already knows everything that is hidden in the shadows (and in total darkness for that matter). Just like Eve could not hide from her Abba, neither can you. He knows every weakness, flaw, imperfection, insecurity and fear. And He is not intimidated by it, neither does He love you less because of it.
He. LOVES. You.
But above all these things put on love,
which is the bond of perfection.
Colossians 3:14 NKJV
In Matthew, Yeshua says the following:
You, therefore, will be perfect [growing into spiritual maturity both in mind and character, actively integrating godly values into your daily life],
as your heavenly Father is perfect.
Matthew 5:48 AMP
We will be perfect.
It is not something that we are yet, at this moment in time. I truly do believe that this perfection will only be attained once we see Him face to face, like a true reflection.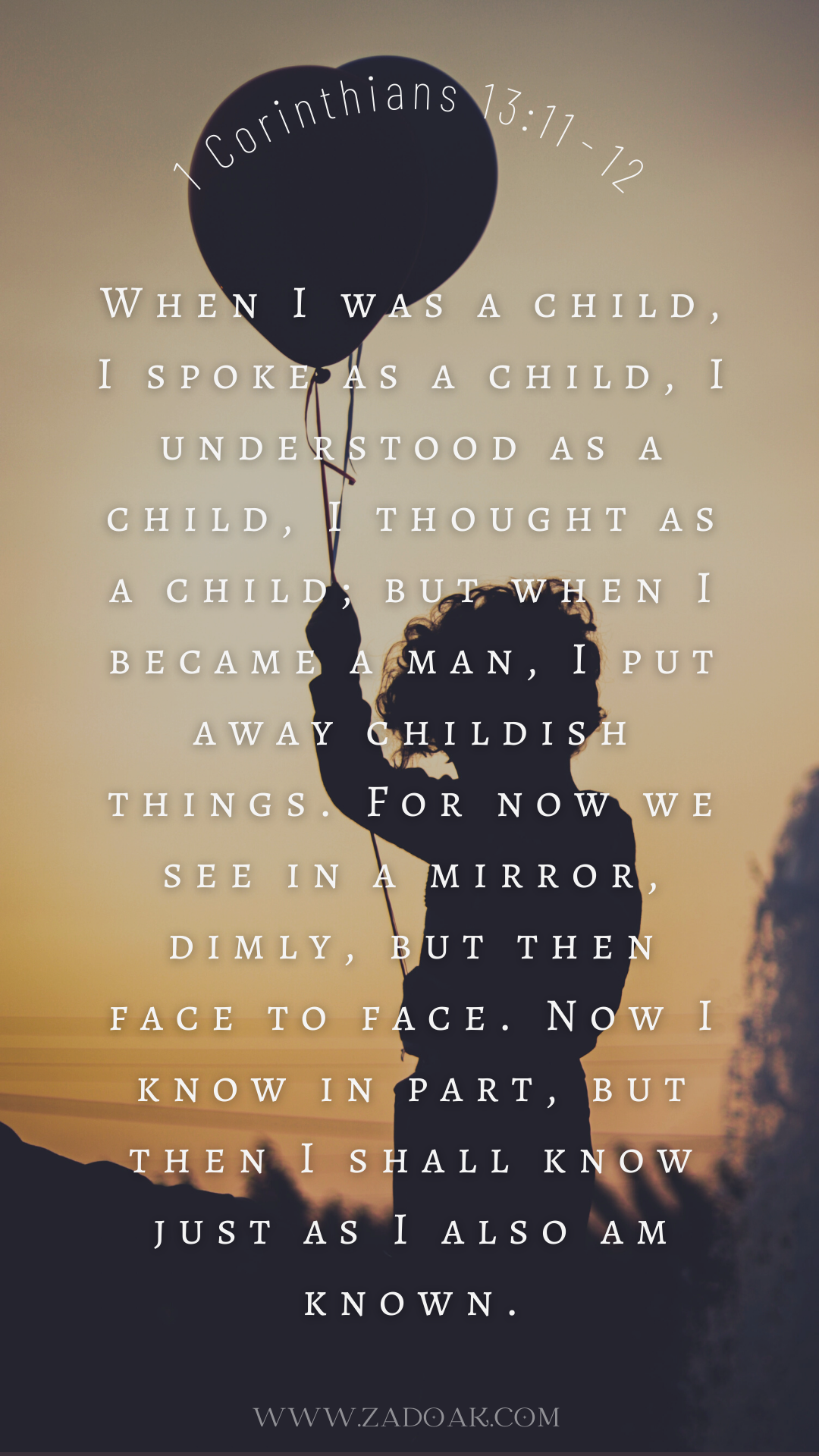 So in other words, becoming perfect in Yah's eyes is much more about growing in maturity. The Hebrew Word for perfect is described below:
The word תם tam [H:8535] can be best defined as "mature in thought and action" and is the parent root of the verb תמם tamam [H:8552] meaning to be whole, finished or completed. From this verb comes the word תמים tamiym [H:8549].

Thou shalt be perfect (tamiym) with the LORD thy God. Deuteronomy 18:13 (KJV)
Can one be perfect? From a Greek perspective, no, because everyone has his faults, but in Hebraic thought there is no concept of "perfect." A better translation of the verse above is;

You will be complete (tamiym) with Yahweh your Elohiym
(Source: https://www.ancient-hebrew.org/living-words/the-living-words-perfect.htm)
We once were like children in our thinking and reasoning, but as we grow in faith, we must become more mature. We must become more like Yeshua in character, bearing His name. This is the only true state of perfection we can ever reach, being clothed with Christ. All other perfection is only a delusion. His Word, His ways, He Himself is the only authentic perfection. You can never be perfect on your own.
I have seen a limit to all perfection,
but Your commandment is exceedingly broad.
Psalm 119:96 ESV
Another word in Hebrew that is used for perfect is kalal (כָּלַל). This word is linked to the Hebrew word for bride, kalah (כָּלָה) The fact that the word perfection are related to the word bride, must stir something within our hearts. Just as the Bride of Messiah, is being purified and made ready for His return, so we must also be purified. Only when He comes back, will the bride in waiting become fully the Bride of Messiah. Until then our perfection is also not yet fully perfected.
Jeremy Pierre states the following:
"When we are being perfectionistic, we are resisting the rather blunt observation of Jesus about us."
"Apart from me, you can do nothing"
(John 15:5).
Yeshua made it known to us that we cannot do anything apart from Him. Perfectionism contradicts this. It is self-seeking without the person necessarily intending it be that way. It is a longing to be perfect apart from Him. Perfectionism draws the attention towards us as humans, and not displaying the glory of our King.
Jon Bloom defines perfectionism as: "a pride- or fear-based compulsion that either fuels our obsessive fixation on doing something perfectly or paralyzes us from acting at all — both of which often result in the harmful neglect of other necessary or good things."
According to Elizabeth Scott:
"A perfectionist is someone who has a personality that strives for flawlessness. This is often accomplished through fixating on imperfections, trying to control situations, working hard, or being critical of the self or others."
The only way we can be truly faultless is through Yeshua. He is the One who presents us as unblemished before the Father.
Scott continues by saying,
"… (they) tend to be pushed toward their goals by a fear of not reaching them and see anything less than a perfectly met goal as a failure."
Do you see the root cause here, it is mostly out of a place of fear that we desire to be in perfection. No human being that I have met is truly perfect in any form or fashion (that is everyone, except Yeshua). One can only pretend to be perfect for so long. It is just the way it is. We might reach something close to perfection in some areas of our lives through the means of performance. However, we will never be able to achieve that unreachable standard in all areas of our lives. I know that some of us have carried the burden of being perfect for years. Our hearts are bended and bruised underneath the weight of it. We have become enslaved to perfection, just like the Israelites were slaves of the taskmasters. Having said that, we know that the perfect love of Yah, casts out all of our fears. We also know that our Abba Father has not given us a spirit of fear, but of power, love and a sound mind (2 Timothy 1:7).
There is a firm warning laying within this striving of perfection for us as believers. I read another very thorough article on the link between perfectionism and depression. Yeshua's yoke is easy, dear friends, not harsh like a taskmaster's! It should never bring us to a place of depression when we seek to become more like Him. His burden is light! It is not heavy.
In this article, written by Ana Sandoiu, she says:
"(A study) found that over half of people who died by suicide were described by their loved ones as "perfectionists." Another study found that more than 70 percent of young people who died by suicide were in the habit of creating "exceedingly high" expectations of themselves."
Prof. Hewitt explains that perfectionists often treat themselves with hatred. He continues by saying that:
"They (perfectionists) tend to have an inner critical voice that is harsh and scolds at themselves like a nasty adult would with a small child."
Being a perfectionist is not exactly the same as being a high achiever. A high achiever values high standards and seeks to accomplish those standards in healthy ways. High achievers are also not intimidated by the process of learning whilst accomplishing the desired outcomes. They also tend to have a more realistic view on achievements than a perfectionist would.
"While high achievers take pride in their accomplishments and tend to be supportive of others, perfectionists tend to spot tiny mistakes and imperfections in their work and in themselves, as well as in others and their work."
(Article written by Yuliya I. LaRoe and Marla S. Grant)
Elizabeth Scott identifies the following traits in perfectionists:
1. All-or-Nothing thought patterns (accept nothing less than perfect)
2. Highly critical in their reasoning
3. Driven by fear
4. Upholding unrealistic standards
5. Prioritizing the result above the process
6. Unreached goals lead to feelings of depression
8. Procrastination
10. Low self-esteem (feeling unworthy)
We all have some tendencies of the above-mentioned traits. Yet, how do we counter these traits? In research done at the Australian Catholic University in Sydney, the following conclusion was found:
"Self-compassion interventions may be a useful way to undermine the effects of maladaptive perfectionism, but future experimental or intervention research is needed to fully assess this important possibility."
Compassion, in my opinion, is the perfect place for the flowers of healing to grow in. Yeshua operated out of this place of compassion on a daily basis. It is part of His character and therefore it should become part of ours. Compassion is not something we just show to our neighbours, it is also part of having biblical love for oneself. We must cultivate the perspective of Yeshua within our hearts. I counsel you to buy eye-salve, beloved, so that you may see the way He sees.
I must add here that I do not fully agree with everything being said in the above mentioned articles, but it does open our eyes to see the severe danger of embracing the idea or illusion of being perfect. It can lead to serious mental health problems. If you can identify any of these traits in yourself, beloved, please seek Abba in this. Ask Him to set you free from this taskmaster, called perfectionism. It enslaves us when we were bought with a price and set free by Yeshua. He came to set us free.
As I'm writing this, the word self-hatred keeps coming to mind. If you find yourself in a place of hating yourself because you have disappointed your own expectations or even those of others, bring that to the Father. Cast this burden on Him, for He truly, deeply cares for you. Let go of these unrealistic and unfair expectations that you have put on yourself. Allow His perfect love to cast out this dreadful fear of being defeated. Unravel the lies that you are a failure or that you are a disappointment. This is not true! Allow Abba Father to speak His words of Truth over you. What does He say about you? What does He expect of you?
This is my prayer for you, dear friend. May the burden of perfectionism be lifted and cast into the depths of the sea. May you have the wisdom and understanding to discern between your true and pure desire to please Abba, and your fleshly need to be perfect. May you let go of the lie that you can only serve Him once you have reached some form of perfection. That is nonsense! Yes, we must mature and He uses us within maturity in different ways. Nevertheless, He can use even a child to be a King and to preach the gospel to those in need. He can even use a donkey to be His mouthpiece. Surely, you are of much more worth than a donkey, even in your worst state. Beloved, He can use you for His Kingdom with all your weaknesses and imperfections. He will purify you and make you complete in His good timing through the washing of His word. So press into His word with diligence. Allow it to saturate the longing within you.
All Scripture is given by inspiration of God, and is profitable for doctrine, for reproof, for correction, for instruction in righteousness, that the man of God may be complete, thoroughly equipped for every good work.
II Timothy 3:16‭-‬17 NKJV
May you know that He is slowly but surely forming you. Be patient in the process. He has not forgotten you. May you know that you have a very specific purpose in the Kingdom. Do not allow the taskmaster to throw you into this ditch of depression because of the lie of perfection.
But let patience have its perfect work,
that you may be perfect and complete, lacking nothing.
James 1:4 NKJV
In Him we live
And move
And have our being
Shalom
Carmen Tehillah
Maybe,
You have been persuaded
To be absolutely perfect
When in all truthfulness
None is purely perfect
None is truly righteous
But One!
Maybe,
You have been deluded
To think you might be excluded
Because you feel insecure
Unsure of who you are
When there is only One
Who's assurance
Can become your
Absolute dependence
Maybe,
Your heart has become polluted
By popularity that has elated
The idea of perfection
And it has caused you to lose connection
With the One who created you
To become complete
To be made whole
To be redeemed
To be restored
Perfect in His perception
Is not the same
as our man made perfection
It's not about being flawless
Or faultless
It's not about being less
Or being more
But about being made whole
He sees it as being restored
Not out of fleshly endeavoring
Or soulish might and striving
But out of His Spirit and Truth
Maturity then takes root
And we grow and bear fruit
He prunes as He sees good
As we become
like our Father in Heaven
Becoming like bread
without leaven
Being purified
And sanctified
Set-apart
With all of our hearts.
The only true perfection
Is within His reflection.
Praise Report:
I am excited to notify you, dear reader, that Joshua Erwee is doing well and that he is finally home. We are in awe of how Abba saved his life, twice. The doctors' reports came back, stating that it is a miracle that little Joshua is healed and alive. HalleluYah!
Prayer Request:
Let's also continue to pray for our brothers and sisters in Eastern Europe, specifically Ukraine and Russia (as well as their neighbouring countries) who are in the midst of a war. For updates on the situation in and around Ukraine, you can follow Amir Tsarfati, here: https://www.youtube.com/user/beholdisrael
I would like to extend a special thank you to Rene Lowings for editing this blogpost for us.